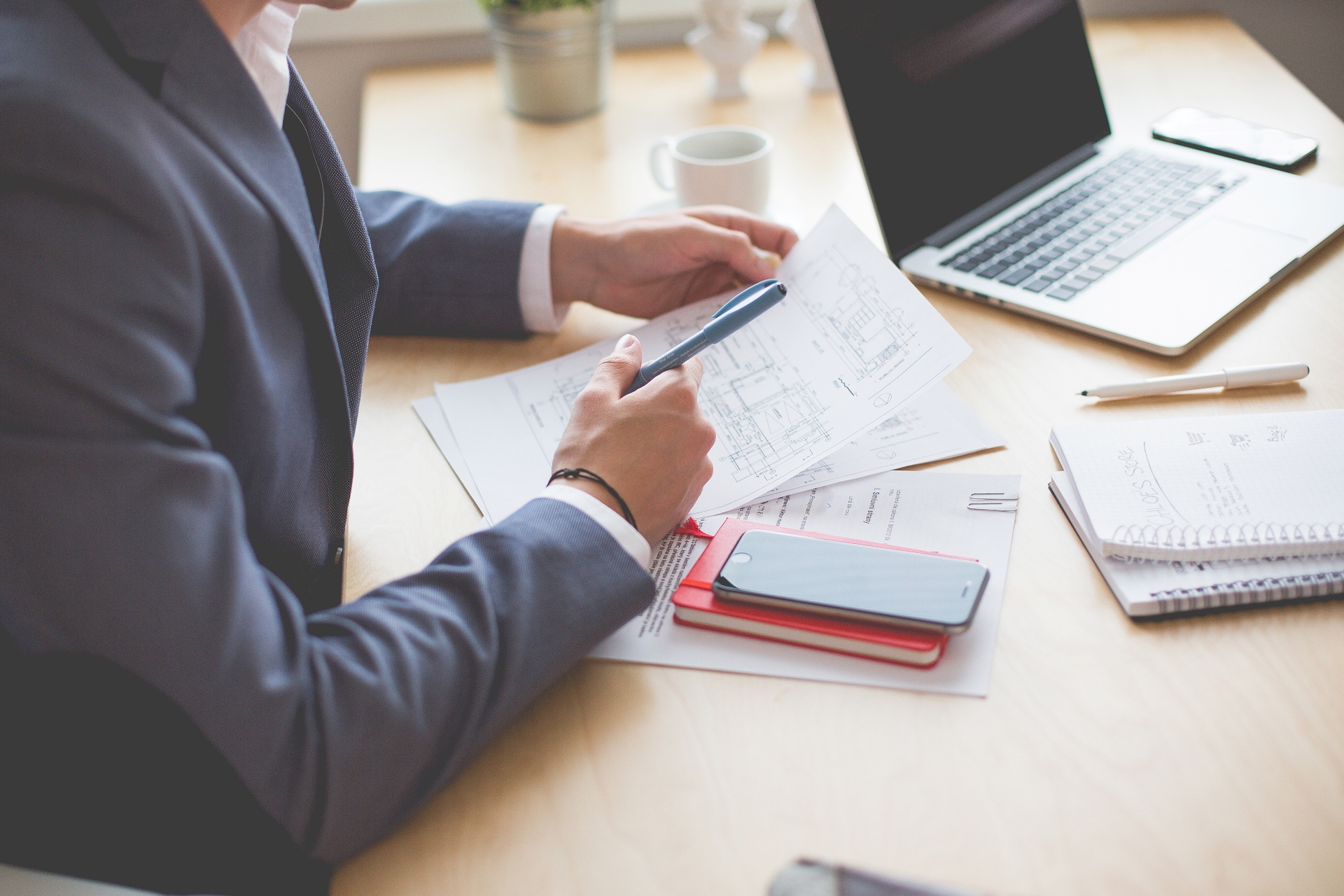 There is a perception among many consumers that insurance is very expensive in the United Kingdom. An objective assessment is required to understand the different factors behind insurance pricing; incorrect perceptions may deter consumers from buying adequate insurance, exposing them, their partners and families to financial risks.
In a previous blog post, Insurance Premium Tax will rise in June, we discussed how insurance premium tax rate levied on general insurance doubled in the last two years. When consumers want to buy any product, the two most important considerations are the price of the product and the benefit. For income protection insurance, the benefit for the consumer is income replacement during the period they are unable to work due to injury, sickness or redundancy in the workplace.
In this post, we will discuss how to make an income protection insurance claim if the need arises and some statistics related to income protection insurance benefit claims.
How to make an income protection insurance claim
Consumers can make income protection insurance claims if the conditions laid out in the policy document are fulfilled; it is important for policy holders to read the policy document carefully before making a claim, otherwise the claim can get rejected. If you think the policy terms and conditions for making a claim are fulfilled you should immediately contact the insurer, even though most Accident, Sickness and Unemployment policies have a waiting period. Although you will not receive any payment from the insurer during the waiting period, it is important to notify the insurer as soon as possible, so that you do not have to wait longer than necessary to receive payments. You should also have all the documents required to make the claim ready when you notify your insurer. Insurers will help their customers with the paperwork required to file the claim.
Income Protection claims are increasing
Data collected by Association of British Insurers (ABI) shows that the number of income protection claims has been rising over the last few years. See the chart below.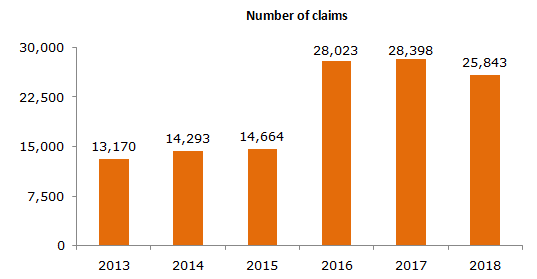 Source: ABI
The total claim value paid has also increased substantially over the last few years (close to £ 650 million, with a record amount paid in 2016. See the chart below.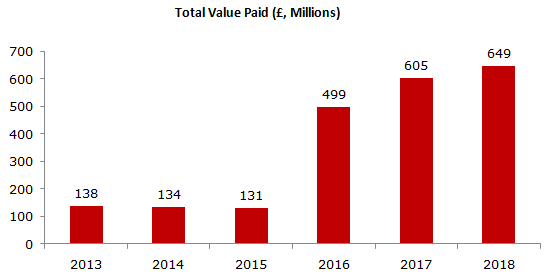 Source: ABI
The average claim paid has also increased substantially over the last few years. Please see the chart below.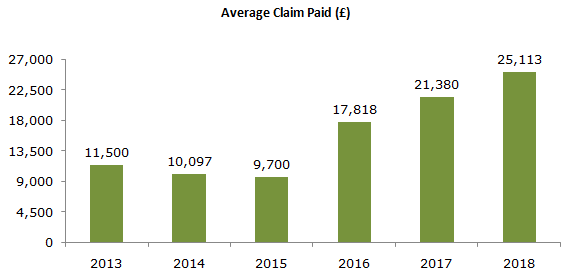 Source: ABI
The average income protection claim paid increased by nearly 120% from 2013 to 2018. The increase in the number of claims and claim payments made by the insurers helps to explain why insurance premiums have become dearer. The claims data also shows that more consumers are getting benefits of income protection and that the average benefit received by customers is also substantially more.
Claims payout versus rejection rates
Certain sections of the media highlight claims rejected by insurance companies. They cite examples of consumers who had to undergo hardships due to valid claims rejected by their insurers. Negative narratives often get more attention than positive narratives. We must, however, be objective in our assessment and look at the overall data. Data collated by Association of British Insurers (ABI) suggest that, more than 97% of all protection insurance (e.g. life insurance, critical illness, income protection) claims were paid by insurers.
Why can income protection claims be rejected?
If you know that you may become redundant at the time of buying an unemployment policy, your policy is likely to be rejected. The insurance company will always investigate the circumstances related to the unemployment insurance claim and if, after a thorough investigation, they feel that you insured yourself after gaining sufficient information with regards to your employment risk, then they will repudiate your claim request. You should also note that, if you are served notice by your employer within the initial exclusion period, then the insurance company will reject your claim.
Many Accident, Sickness and Unemployment (ASU) policies may exclude claims relating to stress or back injuries – two of the most common reason why people have prolonged periods off work. Long term income protection policies may cover such conditions. If there are exclusion clauses in your policies, claims related to conditions arising out of the exclusion clauses will be rejected by the insurer. It is very important, therefore, for insurance buyers to read the policy terms and buy the right policy. If required, consumers should consult with independent financial advisors, to select the right income protection plans.
Insurers may reject claims if the policy-holder did not furnish the correct information at the time of purchasing the policy. The claims process should be fully understood. All the requirements such as supporting documents and certificates submitted should be in compliance with the rules of the insurer. The claims may not be settled, or could be seriously delayed, unless the insurers are completely satisfied with the furnished documents.
What to do if your insurance claim is rejected unfairly
If your insurance claim is rejected and you feel that it should not have been rejected, you should read and re-read the policy document very carefully in order to ensure that you did not make an invalid claim. If you are sufficiently certain about your claim's validity, then you should first contact the insurance company and speak with their complaint handlers. You should also write a formal complaint letter to the insurance company. You should provide your policy details in your complaint letter and attach sufficient evidence to show why your claim is valid. Insurers have internal processes to investigate such complaints and provide resolutions to policy-holders.
If you are unhappy with the final response of the insurer or if eight weeks have elapsed and you have not yet got a response from the insurer you have the right to take your complaint to the Financial Ombudsman Service. The Ombudsman will conduct a free and impartial investigation, with the objective of providing a fair resolution to your complaint.
Conclusion
Claims are an important aspect of buying insurance. Income protection claims have increased substantially over the past few years and it is very likely that, the insurer will fulfil their claim obligation, provided your claim is valid. Nevertheless, it is always prudent, for consumers to understand the claims process, as discussed in this post, so that they can avail the benefits of income protection insurance when they need it.